---
Aircraft Impact Analysis of the World Trade Center Towers
---
D. Isobe: Numerical Simulations for Investigation on True Cause of the Total Collapse of the WTC Towers, Proceedings of International Symposium on Structures under Earthquake, Impact, and Blast Loading 2008 (IB'08), (2008), pp. 157-164, Osaka, Japan.
---
Springback theory: a new theory on the fatal cause of WTC collapse
---
Collapsed due to springback phenomena, according to 9.11 WTC simulation,Jyoyo Shinbun article,2007.10.16, in Japanese
---
"Back bone" cracked on the aircraft impact, a Japanese professor deploys a new theory,Asahi Shinbun article,2007.9.12, in Japanese
---
Aircraft Impact Simulation of the WTC tower for Investigation on True Cause of the Total Collapse, Special topics in JSCES Journal, April 2007, English version.
---
The aircraft impact and progressive collapse of the World Trade Center (WTC) towers, an unprecedented building disaster, pointed out that peculiar external loads and phenomena, which are not considered in building designs and about which little technical information is available, can lead to the total collapse of buildings and the loss of many lives. It may be impractical to adopt building codes that demand structural capabilities to resist such loads and phenomena. However, we should have in-depth technical knowledge about them in order to minimize fatalities and structural damage. Due to the nature of the problem, numerical simulation with dynamic schemes and global analytical models is considered to be an effective means of clarifying actual phenomena. However, if we try to conduct dynamic analyses of full-model large-scale structures like the WTC towers, calculation cost usually becomes a bottleneck. Therefore, a highly accurate numerical code with a very low calculation cost is strongly desired.

The objective of this study is to develop a dynamic finite element code that can effectively cope with strong nonlinearities and discontinuities common in impact collapse problems, and whose calculation cost is sufficiently low to enable dynamic analyses of full-model large-scale structures. The Adaptively Shifted Integration (ASI) technique for the linear Timoshenko beam element is modified to an ASI-Gauss technique, to further reduce calculation cost. Algorithms considering member fracture and elemental contact are also modified. An impact collapse analysis is conducted using a full-scale finite element model to simulate the aircraft impact with the World Trade Center South Tower (WTC2), and the analytical results are compared with the observed data. The results show a clear resemblance. Moreover, the propagation of shock waves through the whole structure and the instantaneous redistribution of stresses, which may have caused some damages to structurally important parts, are observed.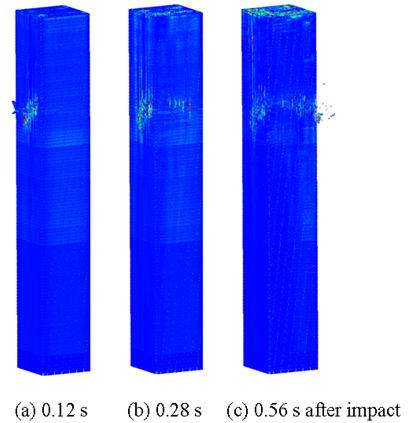 Aircraft impact analysis of WTC2 (global view)

Motion of the fuselage and the engines (upper view)
An aircraft impact analysis of WTC2 is carried out using the ASI-Gauss technique. The numerical model is constructed based on the information from the FEMA report. Full models of the building and the Boeing 767 aircraft are constructed with linear Timoshenko beam elements. All structural members of the aircraft are assumed to have box-shaped cross sections and the material properties of extra super duralumin. The initial velocity of the aircraft is set to 262 m/s and the total mass at the time of impact is assumed to be around 140 tons. We applied implicit scheme with numerical damping as the time integration scheme to avoid any numerical instabilities. The numerical results are practically accurate compared with the observed data.The full model analysis produced a new information on the dynamic redistribution of stresses and the propagation of shock waves through the building.
---
Related papers (Books):
D. Isobe: Redudancy and Robustness in Architectural and Structural Design, Applied Mechanics Series 12, Architectural Institute of Japan, ISBN:978-4-8189-0611-2, pp. 84-98, 2013.
D. Isobe: Progressive Collapse Analysis of Structures: Numerical Codes and Applications, Elsevier, eBook ISBN:9780128130421, Paperback ISBN:9780128129753, 2017.
Elsevier
D. Isobe, Solving problems in structural dynamics using beam elements: From collapse behaviors of buildings to torque cancelling of robots, Maruzen, ISBN:978-4-621-30544-7, 2020. Maruzen Amazon
Related papers (Journals):
Y.Toi and D.Isobe: Adaptively Shifted Integration Technique in the Finite Element Collapse Analysis of Framed Structures, Journal of the Society of Naval Architects of Japan, Vol.171, (1992), pp.309-317, in Japanese. DOI: 10.2534/jjasnaoe1968.1992.309
Y.Toi and D.Isobe: Adaptively Shifted Integration Technique for Finite Element Collapse Analysis of Framed Structures, International Journal for Numerical Methods in Engineering, Vol.36, (1993), pp.2323-2339. DOI: 10.1002/nme.1620361402
Y.Toi and D.Isobe: Finite Element Analysis of Buckling Collapse Behaviors of Framed Structures by Using Adaptively Shifted Integration Technique, Journal of the Society of Naval Architects of Japan, Vol.174, (1993), pp.469-477, in Japanese. DOI: 10.2534/jjasnaoe1968.1993.174_469
Y.Toi and D.Isobe: Finite Element Analysis of Dynamic Collapse Behaviors of Framed Structures by the Adaptively Shifted Integration Technique, Journal of the Society of Naval Architects of Japan, Vol.175, (1994), pp.299-306, in Japanese. DOI: 10.2534/jjasnaoe1968.1994.299
Y.Toi and D.Isobe: Finite Element Analysis of Quasi-Static and Dynamic Collapse Behaviors of Framed Structures by the Adaptively Shifted Integration Technique, Computers and Structures, Vol.58, No.5, (1996), pp.947-955. DOI: 10.1016/0045-7949(95)00195-M
D.Isobe and Y.Toi: Finite Element Analysis of Dynamic Collapse Behaviors of Brittle Framed Structures by the Adaptively Shifted Integration Technique, Journal of the Society of Naval Architects of Japan, Vol.180, (1996), pp.471-478, in Japanese. DOI: 10.2534/jjasnaoe1968.1996.180_471
D.Isobe and Y.Toi: Analysis of Structurally Discontinuous Reinforced Concrete Building Frames Using the ASI Technique, Computers and Structures, Vol.76, No.4, (2000), pp.471-481. DOI: 10.1016/S0045-7949(99)00122-4
D.Isobe and K.M.Lynn: Structural Collapse Analysis of Steel Framed Structure due to Aircraft Collision, Journal of Structural and Construction Engineering, AIJ, No.579, (2004), pp.39-46, in Japanese. DOI: 10.3130/aijs.69.39_2
D.Isobe and K.M.Lynn: Aircraft Impact Analysis of World Trade Center Tower by Using ASI-Gauss Technique, Journal of Structural and Construction Engineering, AIJ, No.600, (2006), pp.83-88, in Japanese. DOI: 10.3130/aijs.71.83_1
K.M. Lynn and D. Isobe: Finite Element Code for Impact Collapse Problems of Framed Structures, International Journal for Numerical Methods in Engineering, Vol.69, No.12, (2007), pp.2538-2563. DOI: 10.1002/nme.1858
K.M. Lynn and D. Isobe: Structural Collapse Analysis of Framed Structures under Impact Loads using ASI-Gauss Finite Element Method, International Journal of Impact Engineering, Vol.34, No.9, (2007), pp.1500-1516. DOI: 10.1016/j.ijimpeng.2006.10.011
D. Isobe, L. T. T. Thanh and Z. Sasaki: Numerical Simulations on the Collapse Behaviors of High-Rise Towers, International Journal of Protective Structures, Vol. 3, No. 1, (2012), pp.1-19. DOI: 10.1260/2041-4196.3.1.1
Related papers (Proceedings):
K.M.Lynn and D.Isobe: Structural Collapse Analysis of Framed Structures under Impact Loads Using ASI-Gauss Finite Element Method, Summaries of Technical Papers of Annual Meeting Architectural Institute of Japan 2003 B-1, (2003), pp.333-334, in Japanese. abstract
D.Isobe and K.M.Lynn: Structural Collapse Analysis of Framed Structures under Impact Loads, Proceedings of the 16th JSME Computational Mechanics Conference, No.03-26, (2003), pp.823-824, in Japanese. abstract
K.M. Lynn and D.Isobe: Structural Collapse Analysis of Framed Structures under Impact Loads Using ASI-Gauss Finite Element Method, Proceedings on 1st International Conference on Design and Analysis of Protective Structures against Impact/Impulsive/ShockLoads, (2003), pp.371-387, Tokyo, Japan. abstract
D.Isobe and K.M.Lynn: On Member-Fracture and Contact Asgorithms for ASI-Gauss Finite Element Method, Proceedings of the Conference on Computational Engineering and Science, Vol.9, No.1, (2004), pp.359-362, in Japanese. abstract
D.Isobe and K.M. Lynn: A Finite Element Code for Structural Collapse Analyses of Framed Structures under Impact Loads, CD-ROM Proceedings on 4th European Congress on Computational Methods in Applied Sciences and Engineering ECCOMAS 2004, (2004), Jyvaskyla, Finland. abstract
D.Isobe and K.M.Lynn: On Member-Fracture and Contact Expressions for ASI-Gauss Impact Collapse Analysis Code, Summaries of Technical Papers of Annual Meeting Architectural Institute of Japan 2004 B-1, (2004), pp.345-346, in Japanese. abstract
D.Isobe and K.M.Lynn: Aircraft Impact Analysis of New York World Trade Center Tower 2, Proceedings of the Conference on Computational Engineering and Science, Vol.10, No.2, (2005), pp.571-574, in Japanese. abstract
D.Isobe and K.M.Lynn: Aircraft Impact Analysis of World Trade Center Tower by Using ASI-Gauss Technique, Summaries of Technical Papers of Annual Meeting Architectural Institute of Japan 2005 B-1, (2005), pp.327-328, in Japanese. abstract
D.Isobe and K.M.Lynn: Aircraft Impact Analysis of New York World Trade Center Tower by Using the ASI-Gauss Technique, CD-ROM Proceedings of the International Conference on Computational and Experimental Engineering and Sciences 2005 (ICCES'05) -Advances in Computational and Experimental Engineering and Sciences-, (2005), pp.1212-1217, Chennai, India. abstract
D.Isobe, Z. Sasaki and K.M.Lynn: Full Model Analysis of Aircraft Impact Event at World Trade Center Using ASI-Gauss Technique, Abstracts of the 7th World Congress on Computational Mechanics, (2006), Los Angeles, USA. abstract
Z. Sasaki and and D. Isobe: Full Model Impact Analysis of WTC2 due to Aircraft Collision, Summaries of Technical Papers of Annual Meeting Architectural Institute of Japan 2006 B-1, (2006), pp.269-270, in Japanese. abstract
Z. Sasaki and D. Isobe: Dynamic Behavior Analysis of High Rise Building due to Aircraft Collision, Proceedings of the 19th JSME Computational Mechanics Conference, No.06-9, (2006), pp.249-250, in Japanese. abstract
D. Isobe and Z. Sasaki: Aircraft Impact Simulation of the WTC tower for Investigation on True Cause of the Total Collapse, Proceedings of the Conference on Computational Engineering and Science, Vol.12, No.1, (2007), pp.399-400, in Japanese. abstract
D. Isobe and Z. Sasaki: Aircraft Impact Analyses of the World Trade Center Towers, CD-ROM Proceedings of the 1st International Workshop on Performance, Protection, and Strengthening of Structures under Extreme Loading (PROTECT2007), (2007), Whistler, Canada. abstract
D. Isobe: On Dynamic Behavior of World Trade Center Tower during Aircraft Impact, Summaries of Technical Papers of Annual Meeting Architectural Institute of Japan 2007 B-1, (2007), pp.253-254, in Japanese. abstract
D. Isobe and Z. Sasaki: Aircraft Impact Simulation of the WTC tower for Investigation on True Cause of the Total Collapse, Proceedings of the 2nd Korea-Japan Workshop on Computational Engineering, (2007), pp.293-302, Seoul, Korea. abstract
D. Isobe: Investigation on the Cause of Total Collapse of WTC Towers using ASI-Gauss Dynamic Collapse Analysis Code, Proceedings of the 57th National Congress of Theoretical & Applied Mechanics, (2008), pp.247-248, in Japanese. abstract
T. Hisanaga and D. Isobe: Study on Fracture and Contact Algorithms for Impact Collapse Analysis Code using ASI-Gauss Technique, Summaries of Technical Papers of Annual Meeting Architectural Institute of Japan 2008 B-1, (2008), pp.391-392, in Japanese. abstract
D. Isobe: Numerical Simulations for Investigation on True Cause of the Total Collapse of the WTC Towers, Proceedings of International Symposium on Structures under Earthquake, Impact, and Blast Loading 2008 (IB'08), (2008), pp. 157-164, Osaka, Japan. abstract
T. Hisanaga and D. Isobe: Verification of Contact Algorithm for Impact Collapse Analysis, Proceedings of the 21th JSME Computational Mechanics Conference, No.08-33, (2008), pp.59-60, in Japanese. abstract
T. Hisanaga and D. Isobe: A Numerical Research on Redundancy of the World Trade Center Towers, Proceedings of the 22th JSME Computational Mechanics Conference, No.09-21, (2009), pp.149-150, in Japanese. abstract
D. Isobe:An adaptive finite element code for impact and collapse analyses of buildings, Abstracts of the 2nd International Workshops on Advances in Computational Mechanics (IWACOM-II), (2010), Yokohama, Japan. abstract
E. Onda, T. Hisanaga and D. Isobe: Analytical Verification on Redundancy of the World Trade Center Towers, Proceedings of the Conference on Computational Engineering and Science, Vol.15, No.2, (2010), pp.1007-1010, in Japanese. abstract
D. Isobe: A Collapse Analysis Code and Its Recent Applications, Abstracts of the 1st Spain - Japan Workshop on Computational Mechanics, (2012), Barcelona, Spain.abstract
D. Isobe: Development of a Collapse Analysis Code of Buildings and Its Applications, Proceedings of the Mechanical Engineering Congress, 2018 Japan, JSME, No.18-1, (2018), in Japanese. abstract
D. Isobe: Solving problems in structural dynamics using beam elements: From collapse behaviors of buildings to torque cancelling of robots, Plenary Lecture, Abstracts of the 11th International Conference on Computational Methods (ICCM2020), (2020), Virtual Conference. abstract
D. Isobe: Beam elements and their applications in various fields of structural dynamics, Plenary Lecture, the 28th International Conference on Computational & Experimental Engineering and Sciences (ICCES2022), (2022), Virtual Conference. abstract
---