---
Analytical and Experimental Systems for Blast Demolition of Framed Structures
---
The technology used in the demolition of old worn-out buildings has always been of major interest and challenge in civil engineering. Because conventional demolition techniques using a hydraulic concrete crusher, a concrete cutter or a nonexplosive demolition agent are lengthy and costly to meet the heavy demand for demolition work, a controlled explosion technique using high explosives has been developed in recent years. Although the blast demolition technique increases work efficiency, it poses a high risk of damaging neighboring buildings, especially in urban areas. It also requires high levels of knowledge and experience, which are very difficult for general engineers to master. Although there are some representative demolition companies in USA and Europe, the blast demolition technique has been only used in a few cases in Japan; this may or may not be due to the above reasons. To familiarize the demolition technique among construction companies, numerical assumptions using computational analysis in devising the blast demolition have become essential in ensuring the success of this technique.

Thus far, there are few numerical examples showing a high performance in dealing with structurally discontinuous problems, such as the Distinct Element Method (DEM) or the Discontinuous Deformation Analysis (DDA), applied to demolition or seismic damage analyses. Although these examples have shown the collapse phenomenon, there are no adequate numerical procedures to track the demolition process that includes coupled and complicated failure mechanisms.

The first objective of this study is to perform some blast demolition analyses using a dynamic finite element code, whose validity against impact collapse problems of full-model large-scale structures has recently been developed and verified. The code is based on the ASI-Gauss technique, a modified version of the formerly developed Adaptively Shifted Integration (ASI) technique for the linear Timoshenko beam element, which computes highly accurate elastoplastic solutions even with the minimum number of elements per member. The ASI-Gauss technique gains still a higher accuracy particularly in the elastic range, by placing the numerical integration points of the two consecutive elements forming an elastically deformed member in such a way that stresses and strains are evaluated at the Gaussian integration points of the two-element member. Moreover, the technique can be used to express member fracture, by shifting the numerical integration point to an appropriate position and by releasing the resultant forces in the element simultaneously. Some blast demolition analyses are performed on framed structures, where the blast conditions are changed to see the difference in the demolition modes.



Blast demolition analysis of a high-rise hotel


Blast demolition analysis was carried out on a high-rise hotel. The explosives are set on 5th to 8th floors of the hotel. Although demolition plans are generally set not to cause severe damages to the neighboring buildings, it was carefully planned, in this case, to make the whole building fall sideways on the neighboring concourse building to see how severe the damage would be. All the columns on the 5th floor, half of them on the 6th, one fourth of them on 7th and 8th are displaced at initial stage simultaneously. The analysis takes approximately 3 days with a personal computer (CPU: 2.93 GHz Xeon).

The figure above shows its demolition sequence, where the hotel is collapsed in a pattern as planned, causing damage to the concourse building over a broad area. The demolition sequence can be changed in any way by placing explosives in different places, and on different floors with time differences. This application as a demolition planning tool may be useful when high-rise towers must be demolished, particularly in urban areas.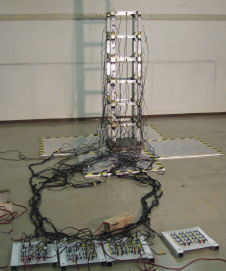 Outline of blast demolition experimental system using electromagnetic devices
We also developed a mimic demolition experimental system that uses magnetic devices to express member fracture caused by explosion. Two electromagnetic devices are mounted on both sides of an aluminum pipe, and the pipes are connected via a steel-made connection with a magnetic field. The magnetic field is controlled by a blast interval controller and power switches, which control the binding of each connection in the framed structure. The experimental system does not use explosives or any such dangerous substances, and multicycle use is possible. Some experiments are carried out for comparison with the numerical results.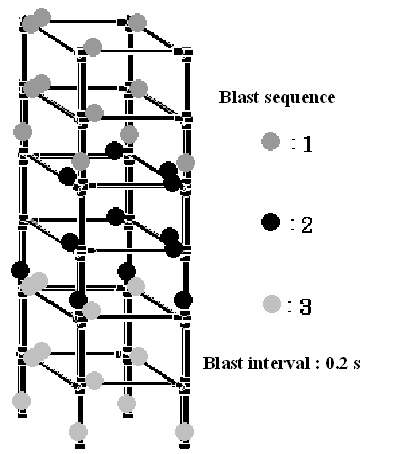 (a) Blast conditions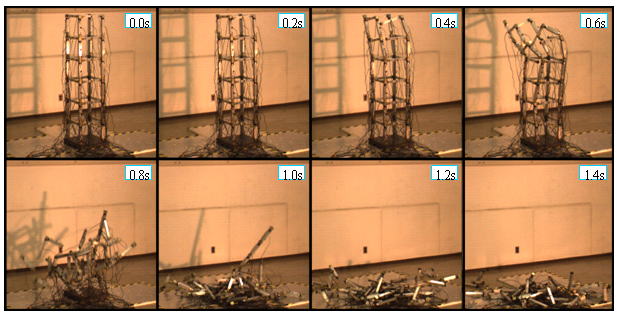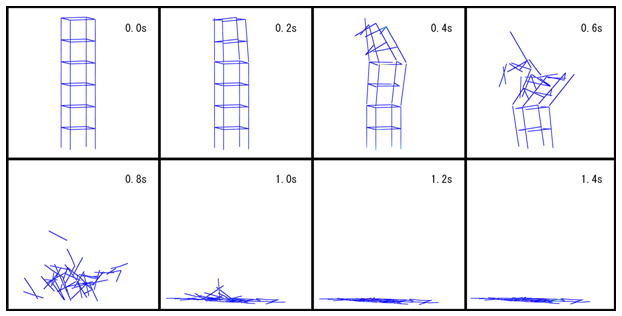 (b) Experimental result                          (c) Analytical result
Blast demolition of 6-storied framed structure
---
Related papers (Books):
D. Isobe: Progressive Collapse Analysis of Structures: Numerical Codes and Applications, Elsevier, eBook ISBN: 9780128130421, Paperback ISBN: 9780128129753, 2017.
Elsevier
Related papers (Journals):
Y.Toi and D.Isobe: Adaptively Shifted Integration Technique in the Finite Element Collapse Analysis of Framed Structures, Journal of the Society of Naval Architects of Japan, Vol.171, (1992), pp.363-371, in Japanese. abstract
Y.Toi and D.Isobe: Adaptively Shifted Integration Technique for Finite Element Collapse Analysis of Framed Structures, International Journal for Numerical Methods in Engineering, Vol.36, (1993), pp.2323-2339. abstract
Y.Toi and D.Isobe: Finite Element Analysis of Buckling Collapse Behaviors of Framed Structures by Using Adaptively Shifted Integration Technique, Journal of the Society of Naval Architects of Japan, Vol.174, (1993), pp.469-477, in Japanese. abstract
Y.Toi and D.Isobe: Finite Element Analysis of Dynamic Collapse Behaviors of Framed Structures by the Adaptively Shifted Integration Technique, Journal of the Society of Naval Architects of Japan, Vol.175, (1994), pp.299-306, in Japanese. abstract
Y.Toi and D.Isobe: Finite Element Analysis of Quasi-Static and Dynamic Collapse Behaviors of Framed Structures by the Adaptively Shifted Integration Technique, Computers and Structures, Vol.58, No.5, (1996), pp.947-955. abstract
D.Isobe and Y.Toi: Finite Element Analysis of Dynamic Collapse Behaviors of Brittle Framed Structures by the Adaptively Shifted Integration Technique, Journal of the Society of Naval Architects of Japan, Vol.180, (1996), pp.471-478, in Japanese. abstract
D.Isobe and Y.Toi: Analysis of Structurally Discontinuous Reinforced Concrete Building Frames Using the ASI Technique, Computers and Structures, Vol.76, No.4, (2000), pp.471-481. abstract
D. Isobe, M. Eguchi, K. Imanishi and Z. Sasaki: Development of Analytical and Experimental Systems for Blast Demolition of Framed Structures, Journal of Structural and Construction Engineering, AIJ, No.612, (2007), pp.73-78, in Japanese. abstract
D. Isobe: An Analysis Code and a Planning Tool Based on a Key Element Index for Controlled Explosive Demolition, International Journal of High-Rise Buildings, Vol.3, No.4, (2014), pp.243-254. abstract
K. Higashi and D. Isobe: Development of Blast Demolition Planning Tool of Buildings based upon Key Element Index, Journal of Structural and Construction Engineering, AIJ, Vol. 83, No. 743, (2018), pp.59-67, in Japanese. abstract
Related papers (Proceedings):
M.Eguchi and D.Isobe: Blast Demolition Analyses of Framed Structures by Using ASI-Gauss Technique, Summaries of Technical Papers of Annual Meeting Architectural Institute of Japan 2005 B-1, (2005), pp.331-332, in Japanese. abstract
M.Eguchi and D.Isobe: Blast Demolition Analysis of Framed Structures and Development of Demolition Experimental System, Proceedings of the 18th JSME Computational Mechanics Conference, No.05-2, (2005), pp.327-328, in Japanese. abstract
D.Isobe, M. Eguchi, K. Imanishi and Zion Sasaki: Verification of Blast Demolition Problems Using Numerical and Experimental Approaches, Proceedings of the Joint International Conference on Computing and Decision Making in Civil and Building Engineering, (2006), pp.446-455, Montreal, Canada. abstract
M. Eguchi and and D. Isobe: Development of Analytical and Experimental Systems for Blast Demolition of Framed Structures, Summaries of Technical Papers of Annual Meeting Architectural Institute of Japan 2006 B-1, (2006), pp.275-276, in Japanese. abstract
M. Eguchi and D. Isobe: Quantitative Verification on Blast Demolition Process of Framed Structure, Proceedings of the 19th JSME Computational Mechanics Conference, No.06-9, (2006), pp.247-248, in Japanese. abstract
T. Katsu and D. Isobe: Development of Blast Demolition Planning System for High-Rise Buildings, Proceedings of the 22th JSME Computational Mechanics Conference, No.09-21, (2009), pp.153-154, in Japanese. abstract
D. Isobe:An adaptive finite element code for impact and collapse analyses of buildings, Abstracts of the 2nd International Workshops on Advances in Computational Mechanics (IWACOM-II), (2010), Yokohama, Japan. abstract
D. Isobe: Structural Collapse Analyses of Buildings Using an Adaptive Finite Element Code, Abstracts of the 4th Korea-Japan COSEIK-JSCES Workshop on Computational Engineering, (2010), Fukuoka, Japan. abstract
D. Isobe, L. T. T. Thanh, T. Katsu and Y. Arakaki, Recent Applications of ASI-Gauss FE Code in Structural Collapse Problems of Large-Scale Framed Structures, Proceedings of the 9th World Congress on Computational Mechanics and 4th Asian Pacific Congress on Computational Mechanics (WCCM/APCOM2010), (2010), Sydney, Australia. abstract
T. Katsu and D. Isobe: Specification of Key Elements for Blast Demolition Planning, Summaries of Technical Papers of Annual Meeting Architectural Institute of Japan 2010 B-1, (2010), pp.287-288, in Japanese. abstract
T. Katsu and D. Isobe: Blast Demolition Analysis Based upon Key Element Index, Proceedings of the 23th JSME Computational Mechanics Conference, No.10-2, (2010), pp.421-423, in Japanese. abstract
D. Isobe and T. Katsu: Blast Demolition Planning Tool Based upon Key Element Index, Summaries of Technical Papers of Annual Meeting Architectural Institute of Japan 2011 B-1, (2011), pp.225-226, in Japanese. abstract
D. Isobe and T. Katsu: Blast Demolition Planning Tool using Key Element Index, Proceedings of the 9th International Conference on Shock & Impact Loads on Structures (SILOS11), (2011), pp.395-401, Fukuoka, Japan.abstract
T. Ogino and D. Isobe: Relationship between Floor Height - Span Ratio of Buildings and Efficiency of Blast Demolition, CD-ROM Proceedings of the Conference on Computational Engineering and Science, Vol.17, (2012), in Japanese. abstract
R. Negishi and D. Isobe: Development of Blast Demolition Analysis Code for RC Framed Structures, CD-ROM Proceedings of the Conference on Computational Engineering and Science, Vol.17, (2012), in Japanese. abstract
D. Isobe and T. Ogino: Blast Demolition Planning Tool Based upon Key Element Index – Part 2: Influence of Floor Height - Span Ratio of Buildings on their Collapse Behaviors, Summaries of Technical Papers of Annual Meeting Architectural Institute of Japan 2012, (2012), pp. 357-358, in Japanese. abstract
D. Isobe: A Collapse Analysis Code and Its Recent Applications, Abstracts of the 1st Spain - Japan Workshop on Computational Mechanics, (2012), Barcelona, Spain.abstract
T. Ogino and D. Isobe: A Study on Blast Demolition Planning of High-Rise Buildings, Proceedings of the 25th JSME Computational Mechanics Conference, No.12-4, (2012), pp.79-80, in Japanese. abstract
R. Negishi and D. Isobe: Blast Demolition Analysis of a Large-Scale Reinforced Concrete Framed Structure, Proceedings of the 25th JSME Computational Mechanics Conference, No.12-4, (2012), pp.81-82, in Japanese. abstract
D. Isobe: Blast Demolition Planning Tool Based upon Key Element Index – Part 3: Relationship between Integrated Key Element Index Value and Undermost Limit of Collapse, Summaries of Technical Papers of Annual Meeting Architectural Institute of Japan 2013, (2013), pp. 373-374, in Japanese. abstract
D. Isobe, T. Ogino and R. Negishi: Numerical Studies on Planning and Analyzing Blast Demolition Behaviors of Buildings, USB Proceedings of APCOM & ISCM2013, (2013), Singapore. abstract
Y. Kusaka and D. Isobe: Blast Demolition Planning of Steel Framed Structures Using Key Element Index, CD-ROM Proceedings of the Conference on Computational Engineering and Science, Vol.19, (2014), in Japanese. abstract
Y. Kusaka and D. Isobe: Blast Demolition Planning Tool Based upon Key Element Index –Part 4: Relationship between Integrated Key Element Index Value and Heights of Remains, Summaries of Technical Papers of Annual Meeting Architectural Institute of Japan 2014, (2014), pp. 343-344, in Japanese. abstract
Y. Kusaka and D. Isobe: Relationship between Blast Demolition Plans of Buildings and Overall Forms of Remains, Proceedings of the 27th JSME Computational Mechanics Conference, No.14-14, (2014), in Japanese. abstract
Y. Kusaka and D. Isobe: Blast Demolition Planning of Steel Framed Buildings Using Key Element Index- Comparison between Various Models with Different Layer Numbers -, CD-ROM Proceedings of the Conference on Computational Engineering and Science, Vol.20, (2015), in Japanese. abstract
Y. Kusaka and D. Isobe: Blast Demolition Planning Tool Based upon Key Element Index – Part 5: Comparison between Various Models with Different Layer Numbers, Summaries of Technical Papers of Annual Meeting Architectural Institute of Japan 2015, (2015), pp. 295-296, in Japanese. abstract
K. Higashi and D. Isobe: Study on a Selection Scheme of Columns for Blast Demolition of Buildings Using Variance of Key Element Index, CD-ROM Proceedings of the Conference on Computational Engineering and Science, Vol.21, (2016), in Japanese.abstract
D. Isobe: A Finite Element Approach to Analyze Large-Scale Collapse Behaviors of Buildings and Motion Behaviors of Non-Structural Components, Semi Plenary Lecture, Proceedings of the 12th World Congress on Computational Mechanics (WCCM XII), (2016), Seoul, Korea. abstract
D. Isobe: Large-Scale Collapse Analyses of Buildings and Motion Analyses of Non-Structural Components within Them, Thematic Plenary Lecture, Abstracts of the International Conference on Computational Methods (ICCM2016), (2016), Berkeley, CA, USA. abstract
K. Higashi and D. Isobe: Blast Demolition Planning Tool Based upon Key Element Index Part 6: Selection of Blasted Columns Using Variance, Summaries of Technical Papers of Annual Meeting Architectural Institute of Japan 2016, (2016), pp. 415-416, in Japanese. abstract
K. Higashi and D. Isobe: Blast Demolition Planning of Buildings with Different Span Numbers Using Variance of Key Element Index, CD-ROM Proceedings of the Conference on Computational Engineering and Science, Vol.22, (2017), in Japanese.abstract
K. Higashi and D. Isobe: Blast Demolition Planning Tool Based upon Key Element Index Part 7: Comparison between Models with Different Span Numbers and Different Selection Schemes of Blasted Columns, Summaries of Technical Papers of Annual Meeting Architectural Institute of Japan 2017, (2017), pp. 271-272., in Japanese. abstract
K. Higashi and D. Isobe: Study on Blast Demolition Planning of Buildings for Improving Efficiency of Demolition and Safety during Demolition, Proceedings of the 30th JSME Computational Mechanics Conference, No.17-4, (2017), in Japanese. abstract
K. Higashi and D. Isobe: Study on Selection Schemes of Blasted Columns of Buildings to Improve Efficiency and to Secure Safety during Demolition, Abstracts of the 2nd International Conference on Computational Engineering and Science for Safety and Environmental Problems (COMPSAFE2017), (2017), Chengdu, China. abstract
D. Isobe: Development of a Collapse Analysis Code of Buildings and Its Applications, Proceedings of the Mechanical Engineering Congress, 2018 Japan, JSME, No.18-1, (2018), in Japanese. abstract
---