---
Vibration Control of Plates and Cylinders Using Piezoelectric Films
---
In this study, we carried out vibration control of a thin cylindrical shell, which is one of the fundamental elements in machines and structures. Piezoelectric films are used as sensors and actuators in order to obtain high performance vibration control in low order modes. The optimal length for a piezoelectric film is conducted by finite element analyses, to gain efficiency in a vibration control system developed by using the direct output feedback control scheme. The control effect in vibration experiments are estimated by investigating the sensor output, along with the visual confirmation by using a laser-holographic interferometer.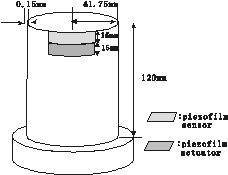 Schematic of thin cylindrical shell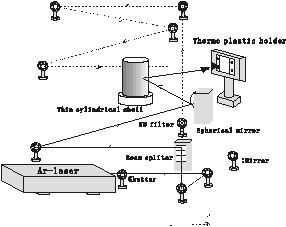 Schematic of laser holography system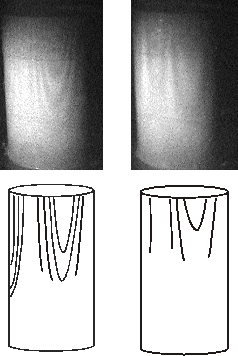 (a) Without control  (b) With control
Control effect observed by laser holography
(attached piezoelectric films for 80% of circumference)
---
Related papers (Journals):
D.Isobe and A.Kudo: Vibration Control of Thin Cylindrical Shell Using Piezoelectric Films (Derivation and Estimation on Optimal Length as Sensors/Actuators), Transactions of the Japan Society of Mechanical Engineers, Series C, Vol.68, No.673, (2002), pp.2665-2672, in Japanese. DOI: 10.1299/kikaic.68.2665
Related papers (Proceedings):
T.Sato, T.Ogahara, Y.Sankai and D.Isobe: Distributed Controller for Piezoelectric Actuator and A Basic Experiment in The Artificial Heart Field, Proceedings of the Conference on Computational Engineering and Science, Vol.4, No.2, (1999), pp.921-924, in Japanese.
T.Ogahara, D.Isobe and A.Kudo: Analytical Estimation on Attached Position of Piezoelectric Films in Plate Vibration Control, Proceedings of the Conference on Computational Engineering and Science, Vol.5, No.2, (2000), pp.583-586, in Japanese. abstract
A.Kudo and D.Isobe: Estimation on Vibration Control of Thin Cylindrical Shell Using Piezoelectric Films, Proceedings of the Conference on Computational Engineering and Science, Vol.6, No.2, (2001), pp.707-710, in Japanese. abstract
---