---
Hypervelocity Debris Impact Analysis of the International Space Station
---
When space structures are placed in low-Earth orbit the exposed structure is subjected to hypervelocity collision with meteoroids and man-made orbital debris. Prediction of damage to orbiting space structures due to collisions with such hypervelocity space debris, which could gain speed up to 10 km/sec, is an important issue. However, generally used finite element code needs some extra complicated processes to be applied in dynamic collapse problems which contain strong non-linearity and discontinuity, such as member fracture.

In this research, the Adaptively Shifted Integration (ASI) technique with the linear Timoshenko beam element, which can be easily implemented with a minimum effort into the existing finite element codes, is applied to the space debris impact analysis of a framed structure in space. In this technique, the numerical integration point in an elastically deformed element is firstly placed at the optimal point for linear analysis. Then the integration point is shifted immediately after the occurrence of a fully plastic section in the element, using the previously established relations between the location of numerical integration point and that of plastic hinge, to form a plastic hinge exactly at the position of that section. The technique produces higher computational accuracy with fewer elements than the conventional finite element code. By expressing member fracture by a plastic hinge located at the exact position with a simultaneous release of resultant forces in the element, discontinuous problems could be easily analyzed even by the finite element code with displacemental form.

Explicit time integration code uses a lumped mass matrix, which is simplified by concentrating each element's mass on each corresponding node point, and numerical error tends to increase in response analyses. It is evident especially if the ASI technique is used, as only few elements per member are needed in the technique, which causes the numerical error due to mass matrices increase. Therefore, in order to maintain higher computational efficiency, an implicit code with the CG method, which can implement a distributed mass matrix, is chosen for the time integration scheme. As the occurrence of extremely large rotations and strains is anticipated in debris impact analyses, the updated Lagrangian formulation (U.L.F.) is used as the incremental theory. Contact between members, and the distribution of element mass before and after member fracture has occurred, are also examined.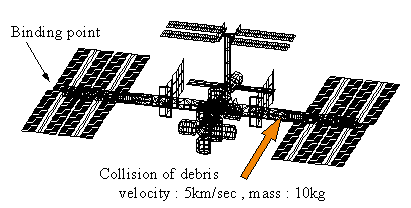 Analyzed model of International Space Station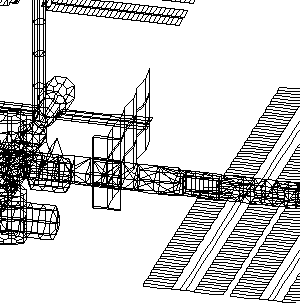 Debris Impact Analysis of International Space Station
---
Related papers (Journals):
Y.Toi and D.Isobe: Adaptively Shifted Integration Technique in the Finite Element Collapse Analysis of Framed Structures, Journal of the Society of Naval Architects of Japan, Vol.171, (1992), pp.309-317, in Japanese. DOI: 10.2534/jjasnaoe1968.1992.309
Y.Toi and D.Isobe: Adaptively Shifted Integration Technique for Finite Element Collapse Analysis of Framed Structures, International Journal for Numerical Methods in Engineering, Vol.36, (1993), pp.2323-2339. DOI: 10.1002/nme.1620361402
Y.Toi and D.Isobe: Finite Element Analysis of Buckling Collapse Behaviors of Framed Structures by Using Adaptively Shifted Integration Technique, Journal of the Society of Naval Architects of Japan, Vol.174, (1993), pp.469-477, in Japanese. DOI: 10.2534/jjasnaoe1968.1993.174_469
Y.Toi and D.Isobe: Finite Element Analysis of Dynamic Collapse Behaviors of Framed Structures by the Adaptively Shifted Integration Technique, Journal of the Society of Naval Architects of Japan, Vol.175, (1994), pp.299-306, in Japanese. DOI: 10.2534/jjasnaoe1968.1994.299
Y.Toi and D.Isobe: Finite Element Analysis of Quasi-Static and Dynamic Collapse Behaviors of Framed Structures by the Adaptively Shifted Integration Technique, Computers and Structures, Vol.58, No.5, (1996), pp.947-955. DOI: 10.1016/0045-7949(95)00195-M
D.Isobe and Y.Toi: Finite Element Analysis of Dynamic Collapse Behaviors of Brittle Framed Structures by the Adaptively Shifted Integration Technique, Journal of the Society of Naval Architects of Japan, Vol.180, (1996), pp.471-478, in Japanese. DOI: 10.2534/jjasnaoe1968.1996.180_471
D.Isobe and M.Morishita: Debris Impact Analysis of Large-Scale Space Structures by Using ASI-FEM, Transactions of the Japan Society of Mechanical Engineers, Series A, Vol.64, No.627, (1998), pp.2726-2733, in Japanese. DOI: 10.1299/kikaia.64.2726
Related papers (Proceedings):
D.Isobe and M.Morishita: Hypervelocity Debris Collision Analysis of Space Structure by Using ASI Finite Element Method, Proceedings of the Conference on Computational Engineering and Science, Vol.3, No.3, (1998), pp.773-776, in Japanese. abstract
D.Isobe and M.Morishita: Impact Analysis of Space Structure due to Collision with Hypervelocity Space Debris by Using ASI-FEM, Proceedings of the International Conference on Computational Engineering Science 1998 -Modeling and Simulation Based Engineering-, Vol.2, (1998), pp.1114-1119, Atlanta, USA. abstract
---